Welcome to webworld360.com
We specialise in providing high quality websites, panoramas, virtual tours, a single virtual tour, object movie photography and seo (search engine optimisation) services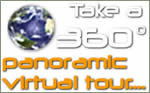 . Working from our offices in Essex, UK we work closely with businesses and individuals at home or abroad. We can build you a top quality website, virtual tour, with product photography solution or a large online shopping cart. We can provide your domain name and hosting. A one page virtual tour or a virtual tour of a complete property with a 'floor plan', or an object movie to display your products at their best. We are sure to have an effective solution to suit your budget.
Our expertise can turn passive websites, using lifeless conventional photography, into dynamic websites using 360 degree imagery, with either a Virtual Tour , Object Movie or Product Photography. Get seen on google and other search engines using one of our seo (search engine optimization) packages.
February 8, 2010 by Melvyn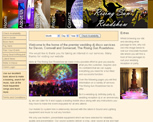 "Many thanks to John at webworld360 for all his effort in making this one of the easiest and best websites around. We hope you will enjoy using all the interactive tools supplied to make your booking as easy and enjoyable as possible.  
John has to be one of the easiest going people i have worked with, nothing is too much trouble for him. Thanks very much for an excellent job !"
Melvyn Franklin - Wedding DJ - Entertainer - Proprieter
RisingSunRoadshow.co.uk
-
ChocolateFountainsForHire.com
"I initially contacted John (webworld360.com) to bring my personal training site

up to date. We discusssed what I needed the site to do and John came up with some great ideas for the site and added a virtual tour. The work was carried out quickly, professionally and for the price quoted! I am still amazed at how good it looks, so much so that I asked him to overhaul another website of mine. I now have 2 fantastic websites and would not hesitate in recommending John to anyone!"
Jez Mancer - Personal Trainer
JustJez.co.uk
-
Motive8me.com
If you are showcasing one or more products why not ask about a stunning 360 degree object movie. Have a look at the sample of a Roof Dragon Object Movie or a Judo Cup Object Movie. Then pop over to see our Flash Object Movies page for more information
Are your property sales in a slump?
A virtual tour may be the answer! Display your properties full potential with a stunning 360 degree virtual tour. Allow potential buyer to see the rooms and gardens in full glorious colour over the internet. This could be the difference between a house sale or wasted journey! Read more about our virtual tours.
Business slow?
A website designed and hosted by webworld360.com can help boost sales by advertising your company online 24/7 for a lot less than an advert in a paper or magazine would cost you. Clients may see at a glance your services or products, and contact you via email in an instant! Website design details here.
Sales down?
Our e-commerce solution could be the answer! In todays competitive market you need the edge and everyone expects to buy your products over the internet, so why aren't you selling online! It is now a lot cheaper than you think and our solution enables you to update all products yourself saving you money in the long term. Online shopping cart information.
Webworld360.com use Flash - Flash content reaches 99.0% of Internet viewers
Adobe ® Flash ® Player is the world's most pervasive software platform, used by over 2 million professionals and reaching 99.0% of Internet-enabled desktops in mature markets as well as a wide range of devices.